Business finance is the management of assets and money. It is important to use formal systems of financial management for a number of reasons
​To keep track of cash flow
Expected by customers
For taxation
To build a healthy credit score; to be able to access capital at lower interest rates
Tips for Good Financial Management
​I will keep a budget of my cash flow, especially for the cash outflow. I should know exactly how much I can spend in a month for my business
I will keep good control of inventories as it is another way of saving money and managing cash flow
I need to develop some rules to take the loans, for example, do I expect customer payments in my account in 1 to 2 business days? Will I pay vendors in installments without hitting interest charges?, or will I always avoid delayed payments to my bank? This is also known as keeping track of accounts receivable
I will keep track of how much I need to pay and on what terms and conditions. This is also known as keeping track of accounts payable.
I will try to find ways to reduce the cost of business such as less printing, use of daylight, bulk purchases from wholesalers, less semi-finished products in inventory
I will always plan the use of money before accepting a loan. For example, term loans are ideal for long-term purchases, while lines of credit can be used to meet short-term requirements or to take advantage of unexpected business opportunities.
I should know how much money I need to set aside for emergencies. I can also think of setting my monthly salary instead of taking the profit as my income. Any surplus in money can be used for business expansion or to pay off debts.
Understanding Banking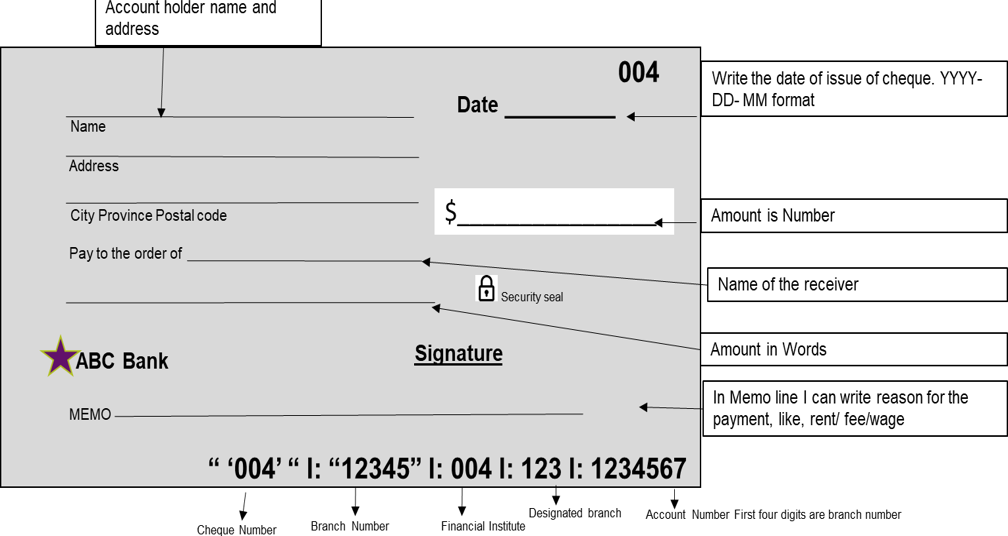 Withdraw

Withdraw means taking cash out of a bank account. Cash can be withdrawn through ATM machines via debit/credit card or through a cheque. Whenever money is withdrawn from the bank, there will be withdrawal charges each time.

Void Cheque

Void cheque means useless or invalid. People give their personal cheque to their employers because it has banking information on it. But they write "void" across the cheque so that it cannot be cashed.
Financial Products
| | |
| --- | --- |
| Money Order | A money order is a payment order for a pre-specified amount of money. It is a more trusted method of payment than a cheque. A person who is sending money order has to pay in advance to issue the money order to the other person. Businesses sometimes money order to their suppliers to buy business supplies. |
| Demand Draft | A demand draft is a method used by an individual for making a payment from one bank account to another. Demand drafts differ from normal cheques as they do not require signatures to be cashed. Like money orders, demand drafts also require advance payment by the sender. |
| Overdraft | Overdraft is the money that I can borrow from my own bank account when there are no funds in the account. However, not all accounts allow an overdraft and there are charges and interest on the money taken from the account. Bank charges vary from bank to bank and client to client. Charges may be daily, weekly, or monthly. |
| Credit Card | A credit card is a card issued by the bank that I can use to make purchases and balance transfer and or cash advances. A credit card gives advance money on a fee and interest basis. This is the most popular way of making payments. |
| Debit Card | A debit card is a cashless payment system from the customer's bank account. Similar to a credit card it has a card and payments are made through POS machines. It does not have any interest rate but banks do charge an annual fee. |